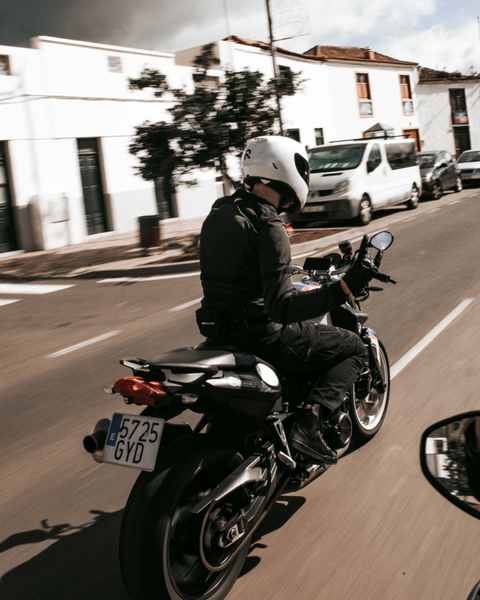 Getting Street Cred with Rebelhorn
Street cred is essential, especially when you're a rebel. How to obtain respect among other street locals? Well, it starts with showing that you know your stuff. With Rebelhorn, you can make your voice heard and be seen as a credible source of information. Because beyond all, we put protection first. With a rebel mindset, nothing is certain; that's why we protect our community through an array of safety resources. We know your type. We are rebels like you; we are different... But we love the same game!
From daily commutes and weekend warriors to street rebels wheeling through the traffic. We understand your strive for freedom as motorcyclists. Rebelhorn got your back when the heat gets real.
Nothing shows more love than... taking care of each other. We sincerely believe we are what makes our surroundings. And this is why we love creating a community of like-minded individuals to create meaningful connections which last long after the ride has ended.
Let's ride together and enjoy the sunset scenery along the Bay. Like you, we understand that a motorcycle is more than just a piece of machinery. It's a way of life for us. There's no better feeling in the world than riding freely and the wind blowing on your face. Those little moments last in our memory, so let's not ruin them by being unprepared.
No compromise on comfort and safety
Not ready? You may ask yourself what this fellow has to say for the sake of burnt rubber! Let's be clear here. You are invisible. Other people stuck in the traffic can only see you and your machine once it's too late. So the key here is to be alert and always prepared.
We made our award-winning jackets visible with no compromise on comfort and safety. Being seen is a game worth playing while on a busy streets. It is usually about staying safe first, then looking good and getting compliments second. At Rebelhorn, we do it the other way around. Safety is our priority, and each piece leaving our door is there to protect the most critical part of the bike-you!
A motorcycle street jacket – safety and looks
Looking stealth is neat, but let me ask you a question. Would you rather live to tell the tale or do what it takes to get home safely? Because you are riding on the streets, not on a race track, I'm still say the latter. Right? Hence, you should wear a motorcycle jacket that keeps you visible and safe. It's only sometimes about all fluo. Yet, reflective add-ons, riding with lights on and treating everyone like they just went off the riding school will make you roll rubber much longer.
Rolling in style is what we do at Rebelhorn motorcycle gear. We got a spectrum of jackets for street riders that can stand alongside fashion pieces or look good on your couch with your girlfriend sipping on Monster Energy. It all depends on your personal style. From our finest Vandal and Scandal pieces, renowned Wave or Flux, to the hot new Spark Jacket that will make you stand out even in a crowd. Which one to pick? Well, it depends if you prefer to be in the spotlight, but whichever look will make you happy is the one you should wear!
The most important gear
Picking the perfect jacket starts with comfort and ends with "how many times am I going to use it"? These questions are essential when choosing a piece of clothing you'll be wearing for a long time. You want to ensure you're picking something you will enjoy and don't regret buying later. The jacket is second after the helmet when we say it is worth paying for the best possible option. We hope they won't ever touch the road, but when duty calls, these pieces are about to save your life!
Street riding is about character, so don't compromise on yours and stay ready to rumble! Even if you are starting, a proper piece of biker gear will help you, be you.