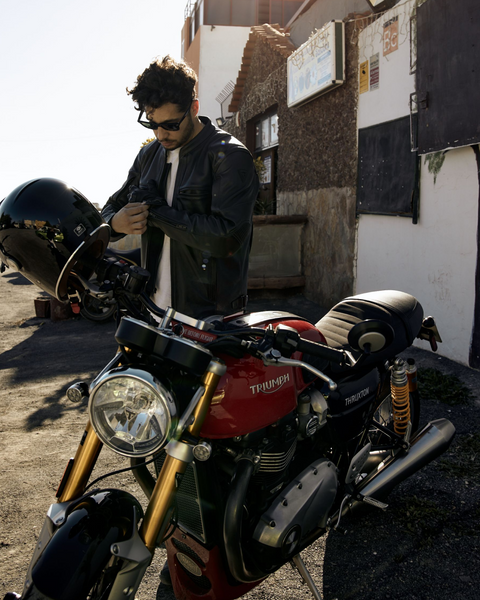 How to define classic motorcycle gear?
What is the difference between classic motorcycle gear and modern motorcycle gear? What is the purpose of classic motorcycle gear? The main difference between traditional and current motorcycle gear is that the former is designed for comfort, while a modern gear is designed primarily to protect the wearer from injury in the event of a crash. Traditional jackets, boots, and gloves are made from leather or other materials that offer excellent protection but are less comfortable than more modern materials. Everyday motorcycle gear tends to be made from materials such as Cordura that provide a high level of protection but tend to be less comfortable and require frequent cleaning. 
The purpose of classic motorcycle gear is two-fold. First, it protects the rider in case of a crash or fall. Second, it adds to the overall aesthetic of the rider's outfit. While modern motorcycle gear is designed to function first and foremost as a protective device, classic pieces can add a unique sense of style to the rider's wardrobe and can be used to attract attention.
Classic look, modern technology
With the growth of the motorcycle gear market and the introduction of new and innovative technologies, it is easy to assume that everything being produced today is modern. Why not use the classic gear look but with improved protection and technology behind it?
Rebelhorn Classic is made for those with legendary moto aesthetics but still want all the perks of newer gear. We use vintage-styled designs and fabrics for our leather jackets, boots, gloves, and accessories while adding a modern twist with protective features.
Traditional leather motorcycle jackets
Just take a look at the Rebelhorn Hunter and Hunter PRO jackets. At first glance, they look like traditional leather motorcycle jackets. But look closely, and you will see that this piece is packed with tech features that will help improve your riding experience and prevent injury in case of a crash.
You will spot: integrated CE Level 2 protection on the shoulder and elbow area, excellent 2-way ventilation and ergonomics for long hours in a saddle. All match the perfect cut and finish you expect from a heritage brand like Rebelhorn. The quality is not compromised either.
Action-packed jacket
Want something more modern? Rebelhorn Runner III TFL is our top off the charts banger. Cowhide leather fits perfectly in both ladies' and gentlemen's versions. Yeah - we know it is not common, but damn, we are old enough to understand women may have a different fit than men. This action-packed jacket is all you could ever want from a leather piece. It comes with our in-house Rebelhorn CLIMA, ERGONOMIC and PROTECTION systems – all CE certified and levelled. This one is a perfect classic upgrade with a suitable price tag.
A jacket for city jungle
Do you spend much time in your motorcycle jacket on and off the saddle in the city jungle? Rebelhorn Impala got this sleek street look while holding an authentic goat leather finish. Detachable hood, good ventilation and protectors to keep the CE tag while being low-key on the road. It looks like classic motorcycle gear keeps its core while being upgraded by some severe technology nowadays. Anyway, your safety matters truly, so see you on the road!