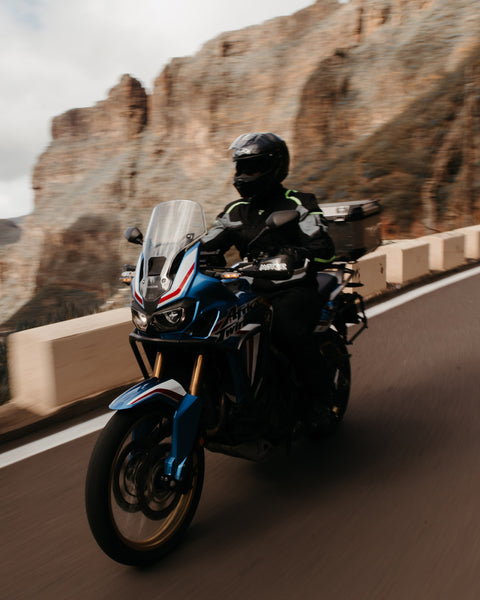 Rebelhorn Tour Motorcycle Gear explained.
Are you looking for motorcycle gear that will help your riding experience be even better? Look no further than Rebelhorn Tour. Yeah, it is a big claim. Understanding the safety and comfort of the tour motorcycle lifestyle is the most significant part of this claim.  
Tour riding develops new needs after each ride. You suddenly discover the necessity for gloves that protect against wind noise, a jacket that prevents wet and cold weather from hindering your day, and a helmet that protects your chin from scratches from the jacket's collar. The list goes on.  
On long hauls, it is all about these small details that only riders understand. You are among them here at Rebelhorn. To start the list off, we have selected some of the best and most functional jackets for the touring rider's comfort, safety, performance and overall enjoyment. See why thousands of motorcyclists trust us and get inspired before your next ride! 
The new Range of touring
The Rebelhorn Tour Range is one of the newest addition to our lineup of touring protective apparel. It is a unique tourist set with vital ventilation and Fidlock fasteners.  
It has three layers, so inside, we will also find an efficient membrane and insulation that can be worn as a jacket independent of the rest of the outfit. For everyday use, magnetic fasteners and additional waist adjustments will be helpful. For crucial engagement points – level 2 protectors provide security. A tour with cold weather conditions should be comfortable. Its lightweight construction is ideal for warm temperatures, but its thermal properties also serve well in mild to cool weather conditions. It all depends on the layers you are planning to put. 
Advanced Patrol
For the most proven out there where the elements are against you, we have a Rebelhorn Patrol jacket. It has two types of waterproofing: a removable outer layer that protects the body and a breathable inner layer that repels rain without absorbing it.  
The SYMPATEX® membrane adjusts with the temperature so that it will break no sweat! Even at high speeds, the Rebelhorn Patrol adjusts to the wind around you and prevents you from feeling uncomfortable!  
We used the most durable and technically advanced materials, such as Cordura®, HITENA® DobbyBallistic, Superfabric® and the mentioned Sympatex membrane. We equipped our jacket with maximum efficient ventilation, the most crucial element of which are panels made of linear 3D mesh. We have used several modern and practical solutions, including Fidlock fasteners, a pocket for a water bladder or a cargo pocket that you can detach and use as a handy bag. The more you play with it, the more it gives! All the protection in it stays at least (!) CE certified to make sure you are coming home! 
Trusted Hardy
For the shapeshifters who jump on a snowy road for a cruise to work, the trusted Hardy jacket 2-in-1 will do the trick. An excellent choice for the coldest days, this jacket has a thermal liner inside a waterproof outer shell that can be zipped off or on, depending on your needs. Get the cosy inner jacket out when you plan to stay indoors for the afternoon, or get the outer waterproof shell on when you brave the weather! With a fleece lining inside and a water-repellent outer fabric, you will always be dry and warm! The fluo parts will at least tell us where you are having the time of your life!  
Which one to choose? Cubby IV vs Hiker III
Cubby IV and Hiker III are closing the pack of touring jackets while aiming for two target groups. Those looking for an all-rounder will get the Cubby IV with its stretchy and classic-looking vibe. All-black is always a good choice!  
As for the Hiker III, the comfort goes in pair with visibility on the road. Visibility is the most important thing when going for long hours on the bike trail, so go for fluorescent colours and reflective patches to stay safe. The Cubby IV will do a better job when rolling, but Hiker III is the true pathfinder for a wander in the wild!