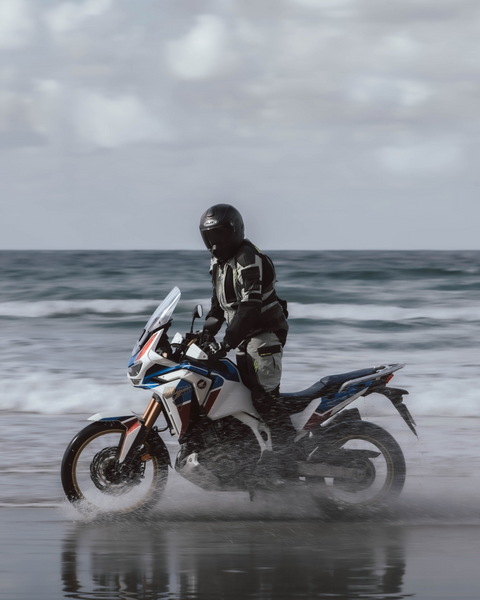 The ultimate motorcycle touring jacket - Patrol
In our not-so-humble opinion, the best motorcycle touring jacket on the market is Patrol by Rebelhorn. This one is truly off the hook regarding quality, design and used fabrics.
We certainly recommend this jacket to any enthusiastic motorcycle rider but, most notably, to those who want to take their riding to the next level. What other options would be equally good? Damn, there is nothing like this one in our collection.
Highly regarded by professional riders and fanatics alike, Patrol will be the best choice for any lifestyle touring motorcycle enthusiast. Whether your goal is to tour on a long distance or to race, Patrol is designed for anything.
While most of you may now think – "What an expensive purchase!" – Patrol is not only what you are paying for – it's what you get for every penny spent. The top-of-the-line Patrol features waterproof and breathable textiles, shell, fabric, and padded materials we will dig into later. Now, let's focus on the main features first.
Which motorbike jacket is best for the traveller?
The one that suits your need, of course. The motorcycle clothing market is complex and broad. The first thing that matters is the functional needs. Don't forget about the weather. So many items are focused on one particular area of functionality. Still, certain things should be in every outfit for every motorcyclist: proper membrane for rain showers, Windstopper capabilities of fabrics, and main-material durability.
Patrol is a prime example of the do-it-all jacket with Cordura®, HITENA® DobbyBallistic, Superfabric® and Sympatex membrane, to name a few technologies it uses. No wonder it is one of the most popular items nowadays. Each of these technologies makes a difference between a useful and supreme one. Top-of-the-line materials ensure the best ride performance and the riders' comfort. Therefore, Patrol should be considered by any motorcycle enthusiast who is looking for the best there is.
Why is this touring jacket by Rebelhorn so unique?
You have already read many glorious words, but let's get to the facts. Innovative Fidlock® magnetic pockets, sealed pockets for a water bladder, and internal routing for a camelback. There is also a sizeable detachable cargo space that can work as a separate bag.
You guessed it right – Patrol is an all-in-one touring motorcycle jacket. It is also a pinnacle of Rebelhorn's protection system. Damage-resistant materials: Cordura®, HITENA® DobbyBallistic and Superfabric® are the first layer of protection when the tumbling starts. CE-level 2 elbow and shoulder protectors and a certified back protector protect the most sensitive places while the product follows CE standards. Reflective patches and double or triple seams are there to boost the overall visibility of the rider and safety. Ah, and the bar top pocket is fantastic for on-the-go snacks.
Wait, there is more!
The detachable SYMPATEX® membrane is a hit. It is waterproof and windproof, and it also has excellent breathing capabilities, which will keep your skin dry on cold and hot days. To keep you worried-free, we equipped the Patrol with a card pocket on your forearm for hands-free payments and added a waterproof pocket inside the jacket for anything you want to keep safe and dry.
Again, the Patrol can quickly go with you worldwide. For uncompromised comfort, Rebelhorn offers its finest motorcycle jacket in size range from XXS up to 7XL with adjustable waist, sleeve width, hips and wrists for optimal freedom of movement. In short, if you want one of the best touring jackets for your bike, look no further!
Summary of Rebelhorn's finest motorcycle touring jacket
Only the best materials are selected for the Patrol to ensure that you get a high-quality riding experience. This is it. Best of what we can now design in terms of durability, comfort, protection and clever design to allow any number of hours in your motorcycle saddle. As always, we highly recommend trying it at your local dealer to ensure the proper fit! If you like it, let us know over our Instagram or email us! Make sure to give any insights or suggestions so we can improve our jackets even more!