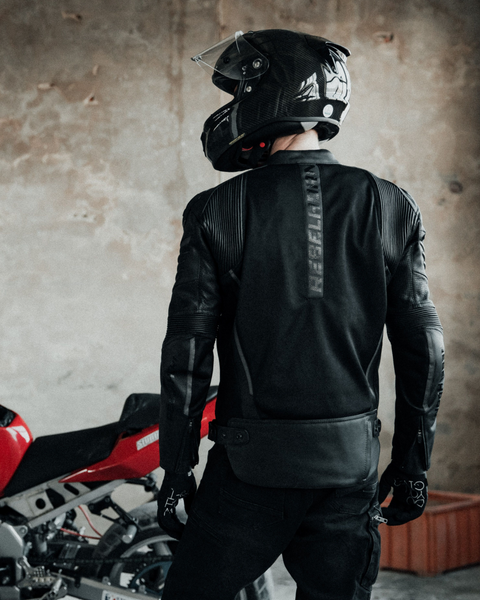 Vandal - the motorcycle jacket that keeps streets busy!
Are you looking for something unique and exciting to wear on your motorcycle? Rebelhorn Vandal is coming in hot! One of our best-selling and top-reviewed jackets on Just About Everything is in our selection right now!
Let's start with a bit of history. The modern term vandalism stems from the Vandals' reputation as the barbarian people who looted Rome in AD 455. While having the primal fun of burning the asphalt, please remember to be safe!
You don't want to be wearing something you can't trust in case you get into an accident. Vandal was made with an intelligent design to protect your vital areas when you are tumbling over. But there is much more to look for in the modern motorcycle leather jacket. Here is a breakdown of the main features.
Why is it called a perfect leather motorcycle jacket for street riding?
Vandal takes its core straight from the street racing. The black leather motorcycle jacket with sporty details guarantees a "sleeper" look. With a CE tag, level 2 SAS-TEC protectors on elbows and shoulders, sleek holders for removable back and chest protectors (not included), and REBEL Clima & Ergonomic systems, damn, this one is a killer. On top of that, it matches the rest of the Rebelhorn motorbike range and comes in different colour options for increased or decreased visibility.
Critical features of leather armoured motorcycle urban jacket?
It needs to feel good, keep you protected and breathe. If it has windproof and rainproof perks, then it is a must-have. The ventilation system is required to keep your skin dry. You will spend a lot of time in it, so check the material's flexibility with some simple stretching to check if it does not get unnecessarily tight. If it is your first motorbike jacket, list what is a "must have" for your primarily driven conditions, and check if the Vandal can match that. We bet it can!
What sets the bar so high for a leather motorcycle biker jacket?
There are tons to choose from. Why bet on a jacket in the middle of the price pack? At Rebelhorn, you pay for the technology and protection that comes with it. It is made to last and bring you home in one piece. We love comfort, accessibility to the main features and, of course, the materials. Italian cowhide leather with 4-way nylon stretch, mesh layer and tons of useable details are here for a reason. We highly recommend trying your next motorcycle gear out at your local dealer, as comfort is vital to riding more!