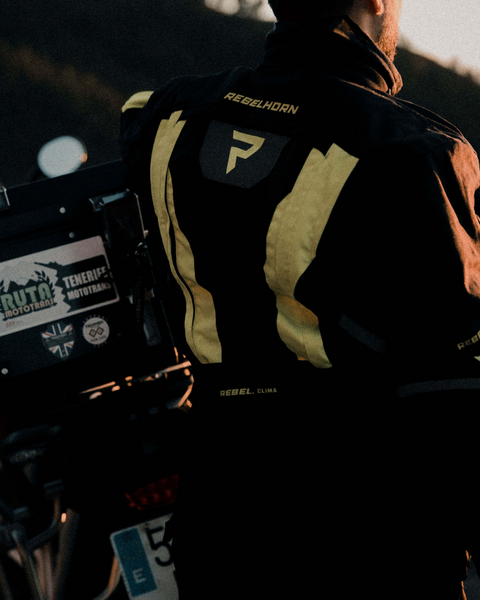 What we love about Hardy II?
Motorcycle touring is a trendy hobby, and touring clothing is essential if you are considering such an activity. Adapting on the go is critical to enjoying longer rides. Rebelhorn offers a vast selection of moto gear for such occasions, and the Hardy II set is a prime example.
If Tom Hardy comes to your mind when reading the name of our trusty Hardy II jacket, you are not far off the truth about it. Trustworthy, reliable and robust.
All things you can trust in both Tom and our motorcycle jacket. Let's skip the Hollywood and go straight on the touring experience this moto gear provides. Being a bang for a buck for the systems and quality used, this CE-approved jacket brings a lot to the table. We primarily love this moto gear because it has many features while being budget-friendly. But what hides behind the hood? Let's take a closer look.
Advantages of Hardy II motorcycle touring set
Hardy II is a set of motorcycle jackets and trousers, which already comes as a perk. The CE-approved collection is comfortable and protected to the highest standards. Stylish, dependable and waterproof. Behind nice words, there are a few excellent features that can make your next long-distance epic.
Let's pick our beloved magnetic pockets – while riding with your gloves on; these will become handy. Next on the list is our ventilation system that keeps your skin dry on cold and hot days.
The 4-way stretch will do the job for the comfort side while our ballistic protectors on the outside will provide much-needed safety.
Let's focus on the trousers as the jacket is only half the set. Cargo pockets, removable Humax membrane and heating options make them as versatile as the top half. The whole set matches the colour range Rebelhorn offers, so feel free to mix it up and fit your beloved bike.
Will motorcycle touring jacket Hardy II keep you well-ventilated?
Bad weather does not always come as pouring rain and wind. It might be summer's sunny days or those brisk fall winters. Comfort in such situations is a key to last long in the saddle. Our breathable fabric with side vents will keep you at ease while preserving your warmth and breathability. Hardy II is equipped with eight chest and four back vents, ensuring the humidity of your inner layers stay intact. With the central vent position, this design allows for riding during hotter days, and the removable mesh interior keeps you light on tour.
Innovative details that prolong your jacket life
Innovation is only implemented in our gear when we find it helpful along the road or valuable to boost the overall quality. We have double and triple-stitched seams in Hardy II to prevent pieces from tearing.
Adjustable elbow pads and shoulder sliders make it feel good and protected easily. You already know our magnetic clips, comfy collars, payment arm pocket and clap to adjust air flow, so wear it to the ground for us!
Are textile motorcycle touring jackets waterproof?
With a detachable HUMAX® membrane, we can call this one weatherproof! Hauling winds or light rain won't stop you from this highway hack! Waterproofing is a broad spectrum of multi-layered protection mechanisms we know how to do. But you don't always need the highest membrane, incredibly when tight on the budget. Hardy II is a fine example. It may not be as durable and weatherproof as our highly regarded Patrol series, yet it will do just fine for typical riding conditions.
Nylon 500D & Cordura® Nylon 1000D, as the first layer, also work as a protective shield due to Cordura® outstanding abrasion and heat resistance. Always take note of "where I will ride this gear the most" and reply honestly - it will save you tons of money in motorcycle gear shopping! Overall, Hardy II is a great value and well worth the investment.