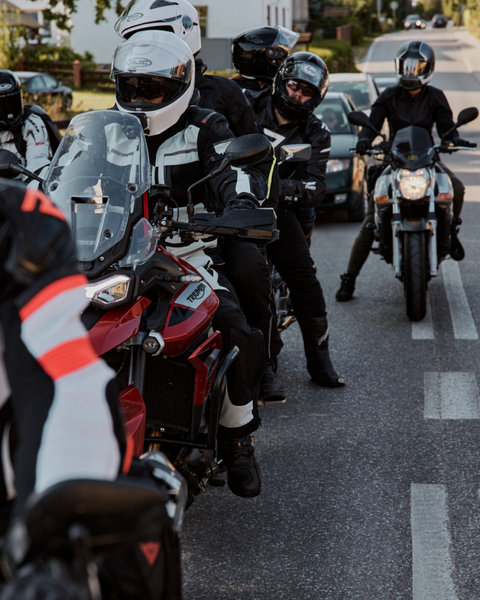 Why do we ride?
Rebelhorn is all about improving the biker's experience. We are providing gear for a community without borders. At heart, our team supports every kind of motorcycle passion. As a motorcycle protective gear brand, we want you and your friends to focus on riding while we care for safety.
No matter your path on your motorbike, your comfort means you can travel further, be happier and share your passion. This simple idea brought our company to life years ago and makes us do better today. Our mission has always been to empower riders worldwide. Nothing means more to us than being part of this inspiring movement.
Join the movement!
When you turn your engine on, you are a part of our family. Rebelhorn gets you covered in the technical equipment to improve your ride, from moto schools to GP racers. Our promise: to provide quality products for the most diverse rider's needs in various styles – always with the Rebelheart inside.
We all got into motorcycling for different reasons
Whether a new rider or a pro rider, we want you to feel at home when you hit the road with us. Regardless of your bike's model or how you dress, we make sure you have the perfect companion for all your adventures. We are all here for each other and do everything we can to make every rider happy and safe while they hit the open roads.
Who are the people behind the bars of Rebelhorn?
Damn, this goes straight to the weak point of us – boasting. Despite having massive success as a moto brand, we are still out there riding bikes. Our team comprises daily motorbike commuters, weekend off-road warriors and asphalt roamers.
Being a dependable business doesn't need to come with a corporate approach of greed. We wanted the best job ever, and we have one resonating with our primary passion. It sounds like a cheeky PR statement, but the best way is to come around our HQ and spot the doughnut marks at the entrance.
Our mindset
It is definitely a pure one. The roaring engine's calm takes us straight to the tunnel vision of joy. There is no echo. It is a state of mind when you know what to do.
Despite the apparent age difference across the company, we still feel the same way. This inner rush to be back at it has driven us for years. Do you experience the same thing? Being focused on the riding itself while the internal dialogue kicks in and your motorcycle therapy begins. If you do, you are definitely at the right place, dear!