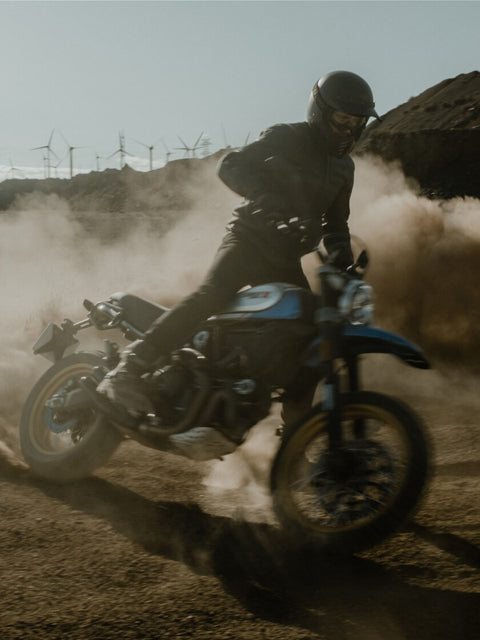 Rebelhorn Runner III - Exceptional, classic leather motorbike jacket
There are a great deal of good leather motorbike jackets available. Shop hangers are full of them. One of them, however, is special – the Rebelhorn Runner III.
Is it difficult to manufacture a good classic leather motorbike jacket? No. All you need is good quality leather, a couple of zippers, a pack of certified pads and a sewing machine. That's why there are dozens of leather motorbike jacket models on the motorbike clothing market – yet only a few are phenomenal.
Rebelhorn Runner III leather jacket design — is it as good as it appears?
The style of the Runner III jacket takes you back to British classics from the glory years of the Triumphs, Nortons and BSA. Back then, bikers used civilian leather jackets. Today, you can put on your Runner III leather jacket and go wherever you want.
Premium leather jacket with CE-level 2 protectors
The classic Rebelhorn Runner III leather motorbike jacket is made of top quality cowhide. In the women's version it is complemented with 4-way nylon stretch. The lining is made of polyester mesh and spandex – extremely pleasant to the touch. The detachable, windproof waistcoat is a real highlight here.
Both the men's and women's versions of the classic Runner III motorbike jacket provide a high level of safety. It is ensured by the jacket's robust structure, multiplied seams and a package of protectors. For the elbows and shoulders, these are CE-level 2 YF panels based on Hilon technology. The reflective panels are a valuable extra touch. They are very useful in the autumn season. 
High level of comfort – a motorbike classic can be comfortable
The Rebelhorn Runner III motorbike leather jacket is extremely comfortable. Elastic leather inserts and a soft finish on the cuffs and collar guarantee a pleasant experience. Adjustable hem at the hips allows for an even better fit.
Special credit goes to the makers of the Rebelhorn Runner III jacket for its ventilation system.Many classic leather models are only fitted with front vents. As you ride, air rushes in through them and, finding no outlet, inflates the back of the jacket like a balloon. The consequence is a very unpleasant choking sensation at the neck.