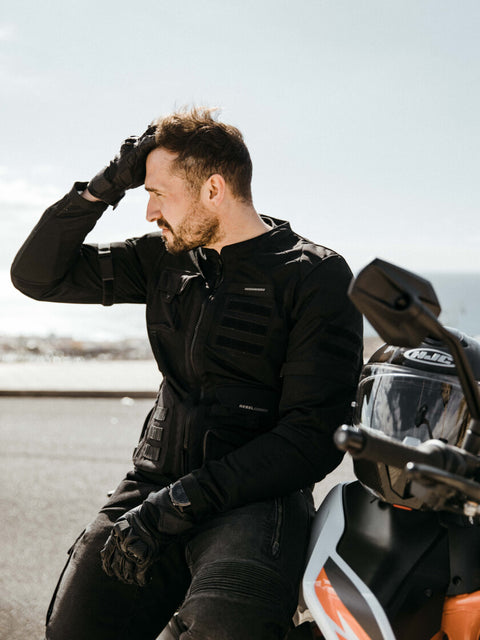 Summer in the city can be harsh – Rebelhorn comes to the rescue with the best hot weather motorcycle jackets
Brutale, Flux, and Vandal Air are the new bike jackets from Rebelhorn with an advanced design allowing a refreshing through-breeze even on a very hot day.
What to wear on a bike when it is 30+ degrees outside? Should you choose a full-grain cow leather jacket over a steel mesh (polyester) one for safety? You don't have to decide between style and protection anymore! All Rebelhorn summer jackets are exceptionally well-fitted, breathable, and fully protective, no matter the fabric.
Rebelhorn Brutale – a lightweight motorcycle jacket with armor
The Rebelhorn Brutale motorcycle jacket was designed for dynamic riders, who can't get off their bikes even in very hot weather. The jacket is made of steel mesh fabric (on the outer shell) that allows free airflow and enhances ventilation. Thanks to this system you can enjoy a cool and comfortable ride even in the summer.
Adjustable cuff pullers at hips, waist, and sleeves plus 4-way nylon stretch inserts make the Rebelhorn Brutale jacket fit perfectly to the body. At the same time giving you freedom of movement in a bike position.
Despite its lightness, the Brutale jacket is equipped with SAS-TEC CE-level 2 elbow, shoulder, and back protectors. On top of that reflective elements will improve your visibility on the road.
Rebelhorn Flux – the best urban riding jacket perfect for hot days and rain
The Rebelhorn Flux motorcycle jacket is a perfect choice for those who ride a bike every day, for example, to get to work and don't know what weather will catch them. Does setting off in the morning in the rising sun but returning in the afternoon drenched with rain sound familiar? With the Rebelhorn Flux summer motorcycle set you can be sure you're prepared for all weather conditions.
The Flux summer motorbike jacket is made of two layers: detachable, soft, and perfectly breathable huge mesh lining, and large steel mesh panels with stretchable, elastic inserts on the outer shell. It is also highly ventilated: it has four ventilation channels at the front and two at the back, which prevents the rider from overheating.
The jacket is equipped with a detachable waterproof and breathable L-XTR membrane, which proves its worth in the summer rain. Multiple waterproof pockets allow you to conveniently store your documents, wallet, and mobile phone.
Rebelhorn Vandal Air – technical, drop-tail summer leather motorcycle jacket
When the world is melting in the summer sun the temptation to leave a protective motorcycle jacket at home and enjoy the cooling effect of motion is overwhelming. Especially if that jacket you have is made of leather. But the Rebelhorn Vandal Air jacket is different, thanks to CE-approved armor it gives you the protection of a traditional leather jacket, but its weight is no bigger than the mesh one. Secondly, elastic inserts enable a bigger range of movements.
The Vandal Air riding gear is equipped with soft and airy mesh lining and a central ventilation channel, which ensures perfect breathability even on a very hot day. Should the heat become too much you can always remove the 120 g thermal quilted lining and have venting panels on the chest and back areas prove its worth.
The jacket has a special belt, thanks to which it can be zipped both with trousers into a set or with jeans. The Vandal Air jacket has a sporty cut so it will please those riders who like to ride in motorbike suits.
This bike jacket from Rebelhorn is a real road fighter, perfect for every motorcycle and every rider, all year long.
To sum up, Rebelhorn jackets tick all these boxes with well-designed features for the heat, the cold, the rain, and the unexpected. So let the summer begin! We're ready!