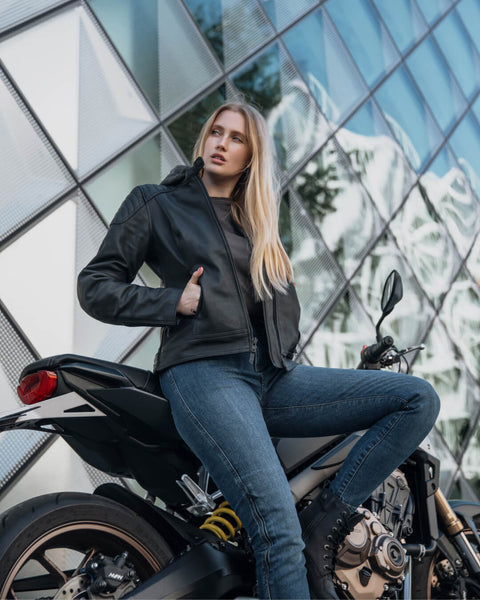 Are motorcycle riding jeans really safe?
Which are the safest motorcycle riding jeans?
Motorcycle denim jeans are a great combination of style, comfort, and safety. With lining or Kevlar inserts, they provide a high level of protection. They also remain lighter and guarantee better air circulation than their leather counterparts. How to choose the best Kevlar motorcycle jeans? Which styles of ladies' motorcycle jeans are the most popular?
When riding a motorcycle, it is essential not only to look great but also to feel comfy and safe. Those characteristics can be provided by the best motorcycle jeans. UK and EU of course do not require you to wear protective gear during your ride, so some may go for regular jeans. However, those do not provide any protection at all. So, is it the style you are looking for? Your choice should be motorcycle jeans. Men's and women's models share similar characteristics.
Motorcycle riding jeans – how to choose one
There are several factors to look for when searching for ideal men's or women's motorcycle jeans. The number one should be safety, of course. There are numerous ways it can be provided by your motorcycle jeans. Kevlar inserts or lining help withstand slides and protect you from harm when falling off your ride. The second one is comfort. While armour is the best way to provide safety, it can impact your convenience during long-wearing. Hence, stretch motorcycle jeans are worth considering. Classic II Slimfit Jeans even let you remove the protectors to ensure your comfort. 
Another important factor is style. Kevlar motorcycle jeans can look great on a sports bike. However, they are not exactly suitable for work. So if you like to ride your motorcycle every day, but need to look classy and professional, skinny motorcycle jeans might be just for you. Of course, they are available in a variety of colours. You can choose from light and dark blue or black motorcycle jeans. Select whichever suit your style the best.
Can I ride a motorcycle in regular jeans?
There is an essential aspect of motorcycle jeans. The UK and European Union require all manufacturers selling motorcycle clothing classed as Personal Protective Equipment (PPE) to test their products and acquire CE marking. However, for now, there are no regulations that could force you to select such a product when riding a motorcycle. Jeans you buy in a regular clothes store are absolutely allowed by the law.
You should bear in mind, that they might look perfectly good, sturdy even, but virtually do not protect you in a crash. Regular denim is instantaneously shredded when you begin to slide. What is more, all the energy goes straight to your tissues. Of course, you might not plan to have an accident, but better safe than sorry. You might choose armoured motorcycle jeans or, if you prefer, leather or Kevlar (e.g. Vandal Jeans) ones. All of these prove superior and protect you from harm in case of a fall.
Are part-lined motorcycle jeans good?
While searching for the best motorcycle jeans, you will surely come across part-lined ones, like Vandal Lady Jeans or Classic II Jeans. They are a brilliant proposition for most riders. In the key impact areas around your knees and hips, they offer a high level of protection, similar to fully-lined jeans. Contrary to them, part-lined ones are significantly lighter and comfier when you get off your ride. They also offer better air circulation. It makes them perfect for warmer days.
In Rebelhorn's classic series (like Classic II Lady Jeans) motorcycle jeans have knee protectors that you can remove without taking your trousers off. This means, your slim-fit motorcycle jeans can be comfortable for everyday use. Also, they ensure a high level of protection when you hit the road again. This functionality is available in both women's and men's motorcycle jeans in various colors and fits, to perfectly suit your style.
Which motorcycle riding jeans are the safest?
Regardless of style and comfort, safety should be your priority when choosing motorcycle clothing. There are several levels of protection, clearly stated with letter codes. AAA-rated motorcycle jeans are the safest possible in current legislation. They provide good abrasion and tear resistance, as well as strong seams. AAA and AA classes are for motorcycle jeans with armour. A and B do not need to include such protectors. It means that they might be more comfortable, but are certainly less protective. C is the lowest level of safety. You should only wear such jeans with additional armour underneath them.
However, there is a slight difficulty for buyers when comparing AAA-rated clothes. While fulfilling all the requirements in legislation, the actual level of their protection might be very different. Studies show that single-layer motorcycle jeans can be less resistant to abrasion than lined ones. Then, leather motorcycle jeans can be even stronger, while all of them still are AAA-rated.
Single-layer or lined motorcycle pants – what to choose?
Single-layer jeans are basically indistinguishable from regular ones that you can buy in any shop. In such a case, usually, fibres of protective material are mixed with denim. This provides the looks and feels of typical trousers, while still assuring a bit of protection. Lined motorcycle Kevlar jeans like Vandal Twill Jeans provide a better protection level and are a bit heavier and warmer.
There are plenty of options for you to select from. Waterproof motorcycle jeans, Kevlar lined ones, or single-layered ones provide stylish looks. While all have pros and cons, each one protects you significantly better than regular trousers. So, the choice is yours. Try on the ones you like. Try on the ones that look more protective. Try on the ones suiting the colour of your jacket or motorcycle. Choose, what you like the most, keeping in mind your style of riding and the safety rating of your jeans.