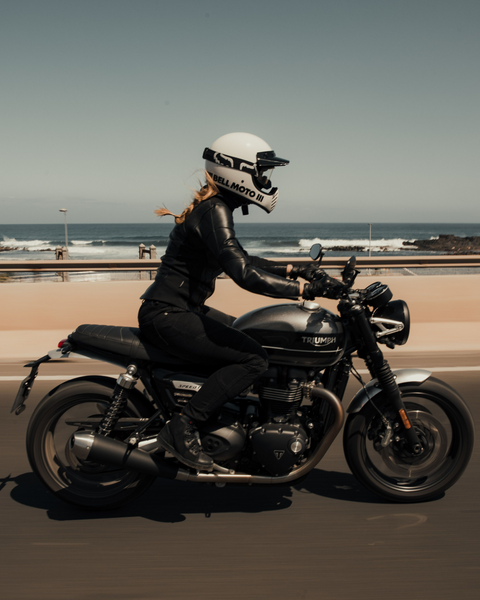 Ladies only! Motorcycle gear pushes the limits..
If you're like most women, your idea of a good time doesn't usually involve tearing around on a motorcycle. But that's about to change. Thanks to innovative new motorcycle gear, you can now experience the thrill of riding like never before. Motorcycle gear is not reserved for gents only. Women can get in on the action too! 
Let's state the obvious. Ladies are built differently than their significant others. Just like men have different body shapes and sizes than women, they also require extra clothing to fit their bodies perfectly. The #1 secret to looking and feeling great while riding is to wear the right motorcycle gear.
Motorcycle styles require different equipment – from boots to jackets to gloves. The same goes for the ladies' equipment. Comfort and style make every safety gear unique and valuable, as it won't protect you from your closet. Keeping your helmet on all the time on the road is a must. But while creating Rebelhorn's ladies' motorcycle gear, we planned on making pieces you would love to wear!
Ladies-only motorcycle gear
One of the most important things to remember when choosing motorcycle gear is to ensure it fits properly. Wearing improperly fitted gear can be dangerous. Imagine tangling a loose jacket into a gas line or holding a heavy pair of gloves in your hands while trying to brake suddenly. Whether you're looking for a new jacket, a pair of pants or a new helmet, it's essential to do your homework and buy quality gear to protect you. Let's dive into our "ladies-only" gear in stock.
Perfect cut protective motorcycle jacket
First off: jackets. We offer various styles, colours and sizes so you can find one you love. Rebelhorn ladies' motorcycle jackets are the perfect combination of fashion and function. Cutting straight to the chase, here's what you need to know.
Luna is a simple two-layer jacket with elbow and shoulder protectors, an adjustable waistband with buckle closure & removable membrane. The same goes for the Flux Lady Jacket, yet the difference is in small details that make it better for some of you.
The best choice is to fit both at your local dealer! Remember to note how you move in the new piece – you will spend a lot of time in it, so as we preach: comfort is king. If you are looking for a jacket that will define your silhouette – aim for Scandal II. It is lightweight due to a mesh finish yet protective due to the fleece and protection pieces – the perfect summer choice!
Ladies protective motorcycle jeans – choose the optimum fit
Second, on the list is a good pair of motorcycle trousers. The easiest way to begin your hunt is to pick a style that suits you. At Rebelhorn, you can choose from various moto jeans models. Here are three examples of different cuts and styles.
Ash goes in black only skinny-fit CE motorcycle pants with a high waistline that suits most women. Elastane threads make the fitting a bliss and will reveal all the beauty of your legs, while SAS-TEC level 1 armour keeps the knees and hips safe.
A Classic III would be ideal for those who prefer a sleeper look. Classy, straight jeans look with hidden Aramid fibres around the waist, hips and knees to keep you in one piece along with CE level 1 and 2 armour on crucial parts.
To finish it off, if you love to kick it after a long ride and make a statement with your legs, Rebelhorn Vandals will be just perfect. Tapered leg opening with excellent stretch and a narrow waist for a comfortable fit. Mesh panels with kevlar on the back and at the sides keep the air flowing while riding. Just a badass fit for the rebels!
Ladies! Be bold about asking for woman-specific clothing at your favourite shop! Brands start to understand your body requires special treatment, so never settle for less than that!