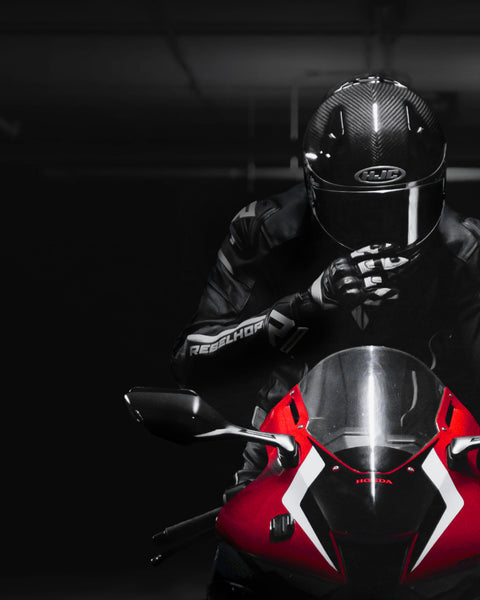 Meet Rebelhorn Fighter, a two-piece motorcycle suit
One of our most popular motorcycle gear pieces, the Rebelhorn Fighter, is perfect for anyone who loves to ride. It is robust, wallet-friendly and allows you to feel safe while speeding. Your Rebelhorn Fighter motorcycle suit has three significant features: breathability, comfort and protection. But why does it fit so nicely? Let's dig into its main features!
Why is two piece motorcycle suit worth buying?
For Rebelhorn, protection values are crucial. Each Rebelhorn Fighter comprises two lightweight and highly flexible layers that form a solid two-ply, protecting you from impact. Together with rigid backing material, this two-ply 'aramid/aramid' system creates a highly flexible piece of gear.
The 4-way stretch keeps the premium cowhide leather adjustable to all body types. Yet, the protection starts way earlier due to removable sliders for shoulder pads. This ensures you have no 'dead spots' on your body armour, meaning a better chance of saving your life. As always, everything is CE-certified, so you can be confident that Rebelhorn meets European standards.
Advantages of Rebelhorn Fighter – a two-piece motorcycle suit
The Fighter two-piece motorcycle suit could fit any occasion with sixteen combinations of colourways matching your motorcycle pants with the jacket. We are confident it will not have any problems fitting the motorcycle. Comfort is a crucial feature to avoid mistakes at high speeds, so each detail makes it easy to check your pockets, adjust, change gears or look good!
The ventilation closes the list. It is not only keeping you cool but also ensures the blood flows through the whole body. The mesh liner keeps you dry while the 360° zip makes connecting the pieces a bliss.
Body armours tend to get tight when fully locked, so Rebelhorn's looser materials allow you to adjust every minute comfortably! The best way to buy a new piece is always to fit it, so check your local dealer for the Fighter next time!